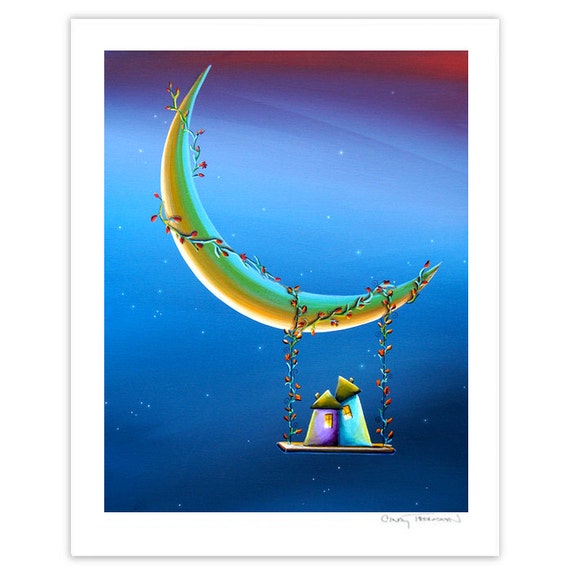 PRINT INFO:
Sometimes when I paint, a song sticks in my head. Can you hear the Glenn Miller Orchestra playing on the radio? I can't help it, I'm clearly an old soul. These two little love bird homes are enjoying an evening under the moonlight on a swing made of roses. This piece is part of a series of "Love Stories", and the original will be featured at a show in Taipei in May of 2015. This is a high quality art reproduction printed with archival inks on Canon Pro Luster Paper which resembles a semi-gloss finish.
Title: "Another Moonlight Serenade"
Paper Size: 8" x 10"
Image Size: 7" x 8 3/4"
Signed Titled & Numbered: Yes

This is a limited edition of 20. All of my limited editions are titled, signed, and numbered in the white area just below the print. Matte prints are signed in pencil and semi-gloss prints are signed in ink. Prints are packaged w/ ultra thick acid free backing board (8 ply), and ships in a protective clear sleeve.
More artist info at: www.cindythornton.com