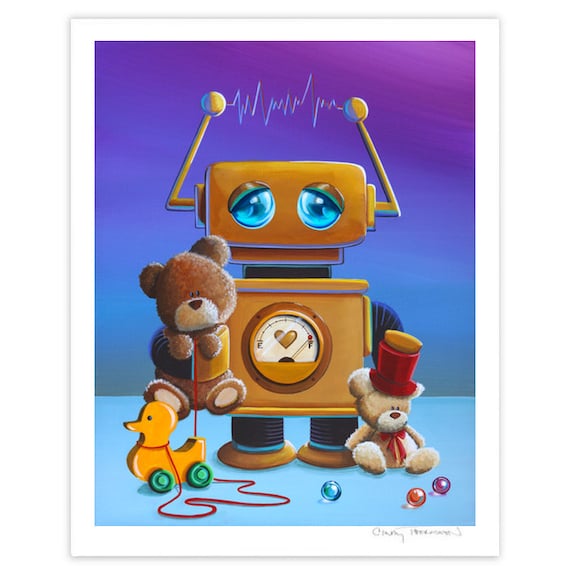 PRINT INFO:
The sweetest robot you will ever meet. "Toy Robot" is the 14th painting in my robot series. This little bot has toys and is a toy. Notice his "love-o-meter"? It's full :) He's got his two teddy bears, wooden duck, some marbles, and lots of love. The original was done in acrylic on canvas, and has already shipped to Taiwan for an international art show happening in Taipei for April 2016. This artwork is a limited edition print and is printed with archival inks on Canon Pro Luster Paper which resembles a semi-gloss finish. It has been titled and signed in ink on the lower portion of the print in the white area.

• Title: "The Toy Robot"
• Paper Size: 8" x 10"
• Image Size: 7" x 9"
• Signed Titled & Numbered: Yes

This is a limited edition of 10. All of my limited editions are titled, signed, and numbered in the white area just below the print. Matte prints are signed in pencil and gloss prints are signed in ink. Prints are packaged w/ ultra thick acid free backing board (8 ply), and ships in a protective clear sleeve.