← Back to Product Listing
Dreamer Series Limited Edition - The Girl With The Golden Heart - Signed 8x10 Semi Gloss Print (5/10)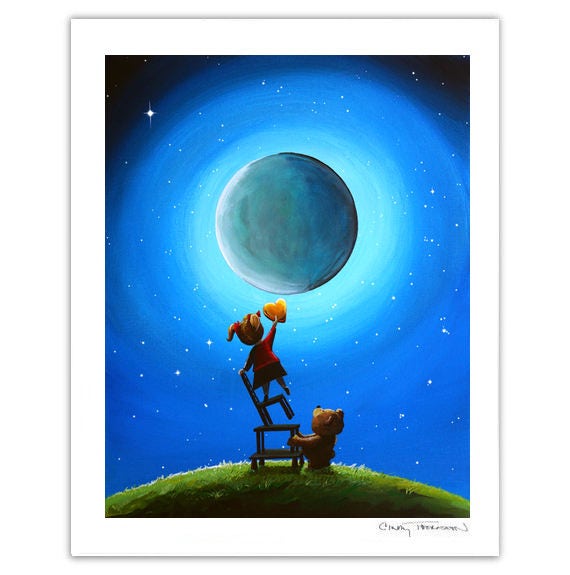 PRINT INFO:
These two are quite a pair. I've got several more paintings featuring the little girl with her bear in the making too ;) They are not trying to steal the moon in this piece, rather give it a gift. Why? She loves the moon. This dreamer (the original) will be at the 2017 International show in Taiwan (Art Revolution Taipei). 10 signed prints are available through me here on etsy. This is a high quality art reproduction printed with archival inks on Canon Pro Luster Paper which resembles a semi-gloss finish.
Title: "The Girl With The Golden Heart"
Paper Size: 8" x 10"
Image Size: 6.75" x 8.5"
Signed Titled & Numbered: Yes

This is a limited edition of 10. All of my limited editions are titled, signed, and numbered in the white area just below the print. Matte prints are signed in pencil and semi-gloss prints are signed in ink. Prints are packaged w/ ultra thick acid free backing board (8 ply), and ships in a protective clear sleeve.
More artist info at: www.cindythornton.com